Matt Mosley Says Dak Prescott Will Not Let Ezekiel Elliott Hold Out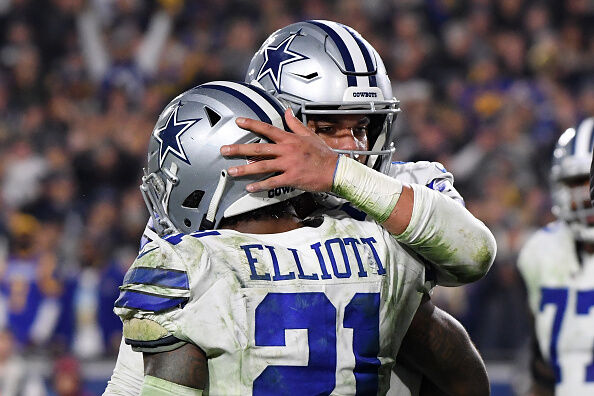 Matt Mosley: "I think there's about a 2% chance that Ezekiel Elliott doesn't show up to Cowboys camp. He's going to be there because Dak is going to be in his ear. Dak is going to bat for him right now saying 'Hey, you gotta pay all of us and none of us are taking cuts', and Dak is going to tell Zeke 'I'm going to have a harder time being in your corner if you don't show up and be with us.' They've built everything in this offense around Zeke and the Cowboys have no idea what Dak is without him. Jerry is really dug in on Zeke. I don't think Zeke is wired that way. He is not his own man. He's a friendly and puppy dog sort of guy that is under Dak's spell and will do what Dak advises him to do, which is show up at the start of camp."
Listen to Dallas Cowboy insider, and co-host of 'The Doomsday Podcast' Matt Mosley join The Herd and explain why he believes Ezekiel Elliott will show up to Cowboys training camp on time, as there are developing rumors of the Cowboys superstar running back holding out with two years still left on his rookie deal.
Mosley tells Colin Cowherd that Zeke is easily swayed and influenced by Cowboys quarterback Dak Prescott, and thinks Dak will make sure his star battery mate will indeed be ready for the start of the season.
Check out the audio below as Mosley details how Prescott has been going to bat in the media for all the Dallas players that are expecting big paydays, and says it would be out of character for Elliott to do anything that would go against the wishes of a gallant teammate like Prescott.