Doug Gottlieb Says Jerry Jones is a 'Sucker' For Caving to Ezekiel Elliott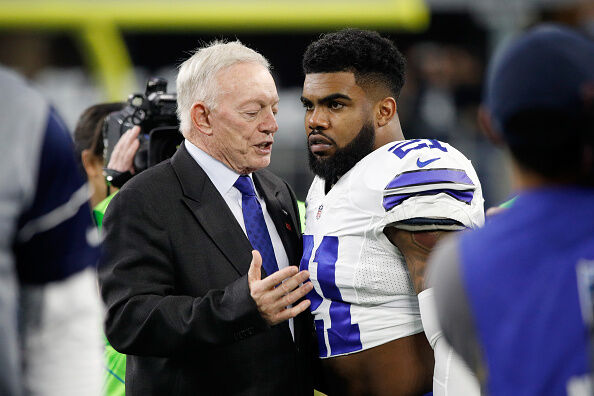 Doug Gottlieb:

"The Cowboys are doing that 'thing' that Dallas does where they can't help themselves, can't stand firm, and can't NOT buy the first thing on the rack. SUCKER! Jerry Jones relents on the eve of the season kicking off when running backs are making less and when the Chargers are digging in their heels on Melvin Gordon. Jerry had leverage. Zeke was under contract and had nowhere to go. As much as you think this is 'Goodwill' and guys will love you for it, NO THEY WON'T, they'll wanna get paid too. Congrats, you just cost yourself a couple more million with Amari Cooper and Dak Prescott. And you wonder why there was a disconnect between Jimmy Johnson and Jerry Jones and Bill Parcells and Jerry Jones… And the reason those guys have won championships elsewhere when Jerry has not… HERE'S YOUR ANSWER."

(Full Video at Bottom of Page)
Listen to Doug Gottlieb explain why he believes Jerry Jones and the Dallas Cowboys dropped the ball in their contract negotiations with star running back Ezekiel Elliott, after the two-time All Pro made off with a fresh six-year, $90 million deal in the dying seconds of the NFL offseason.
Gottlieb called Jones a 'sucker' and says Jerry still had leverage over Zeke with two years still left on his deal, and with the team set to play three consecutive bottom feeders to open the season -- the Giants, Redskins, and Dolphins --- should have continued to play hardball with Zeke until he showed up out of desperation.
Check out the video below as Gottlieb dogs Jones, saying this is the reason Hall of Fame coaches Jimmy Johnson and Bill Parcells always butted head with Jones' flawed GM mindset, and says signings like this are the reason those guys were able win rings elsewhere, while Jones has gone 25 consecutive years without a Super Bowl appearance.